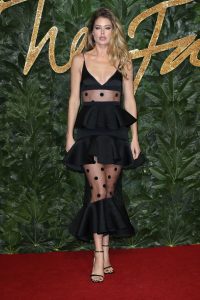 Doutzen Keros, the famous Dutch top model, arrives at the Royal Albert Hall in a look from David Koma's Spring / Summer 2019 collection. The 33-year-old supermodel surprised everyone in her black dress with thin straps and transparent mesh detail with black shoes. The Koma dress comes just below the knee and has peplum details on the hips and knees.She released her blond, wild hair for the fashion event and chose a dark cat-eye as a make-up look. Her choice of jewelery remained remarkably minimalistic; Doutzen chose them to wear only a ring on both hands.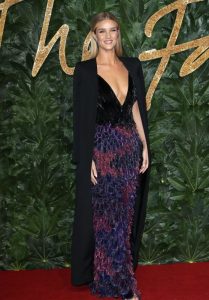 Rosie Huntington Whiteley was present at The Fashion Awards 2018 in London on Monday (December 10) alongside Carey Mulligan, Lana Del Rey and Poppy Delevingne. The model wore a Givenchy Fall 2018 Haute Couture outfit straight from the runway. It would have been interesting to see her interpretation of the ensemble, or to get a peek at the pieces separately, but no one can deny the bewitching beauty of the full look. The sleek, elegant drape of the coat juxtaposes the tactile quality of the feathered gown while presenting a sense of mystery.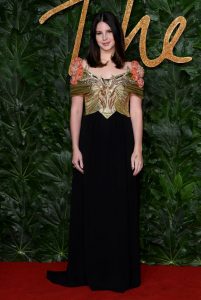 Lana Del Rey joined Penelope Cruz and Naomie Harris at The Fashion Awards 2018 in London, England on Monday (December 10). It wasn't much of a surprise to see the singer in Gucci, but she still had me besotted. The luxurious embellishment on the bodice wasn't distracted by an onslaught of other details and accessories. It remained the singular focal point.everyone were charmed by the way the gently pleated black skirt and her dark hair serve as bookends to the gilded top.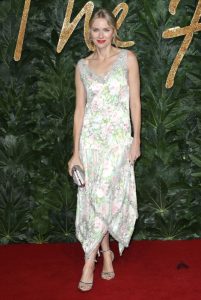 Naomi Watts was back on the red carpet at The Fashion Awards 2018 on Monday (December 10) in London, England.The actress was outfitted in a Richard Quinn Spring 2019 dress. It was a memorable occasion to wear the designer considering he was the winner of the British Emerging Talent Womenswear award. She took a more classically feminine route than the runway by styling the dress with silver accessories to enhance the embellished trim.The outfit was pretty and unfussy, and she looked at ease in it.