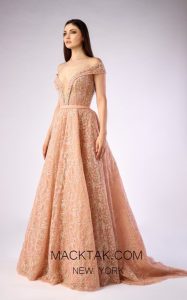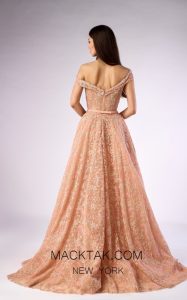 Show off your gleam in this skillfully designed Gatti Nolli OP4749  evening dress of our latest collection. This Gatti Nolli dress is suitable for every modest, tasteful with well-fitted body. The slim-fitted silhouette has a captivating style, making your well-shaped body highlighted and amazingly shown and you will be proud of your choice all night long. The smooth, cascading, floral patterned fabric looks stunning.
It has revealing spirit, elaborating more on your collarbone neck and shoulder area. The bodice of the Gatti Nolli evening dress has off-shoulder plunging neckline decorated with sets of flowers creating a stunning majestic vibe, with its caressing spirit. It is continuing in to an open back with a full view of your shiny skin.
The slim-fitted tailoring continues till the snugged hugging waistline, elaborating the hips, and all the desired curves, and edges, falling down to a pleated long skirt decorated with layers. The skirt of this Gatti Nolli evening dress has snugged sense in hip curves area, boosting up your beautiful posture.
This Gatti Nolli Evening dress offers a desirable look the beautiful ladies to celebrate their God-given beauty in the most artistic, and wanted way. Gatti Nolli is one of the most known and celebrated brands in women fashion all around the world. Gatti Nolli Couture tries to see the dream of every woman fulfilled.
Gatti Nolli's designs are mixture of calmness, wildness and above all creativity, which reflects the personality of being confident and ambitious till the end. The Gatti Nolli dresses are showing the unique talent in all over the world and in any exhibition with the prestigious designs and glamorous silhouettes.
These evening dresses have brilliant styles, based on magnetic fabrics, and the genius mind of skillful designer, in touch with delicate side of feminine feelings. They are the true embodiment of glory, luxury and modesty. Gatti Nolli is the guarantee for beauty. This MackTak Evening Dress is the real deal with the dramatically floor sweeping train.