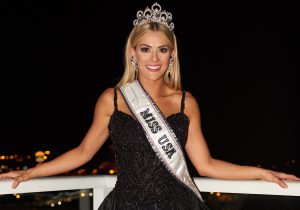 Sarah Rose Summers was crowned Miss USA 2018 on Monday in her shiny, black-sequined gown. The fabulous look features sleeveless sweetheart neckline, and fully embellished silhouette, creating a dazzling look. The ruffling caressing overlay of the waist portion added much majesty and royalty to the design.  Sarah Rose Summers is an American model and beauty pageant titleholder who was crowned Miss USA 2018. She was born on November 4, 1994 in Omaha, Nebraska, As Miss USA, she will represent the United States at Miss Universe 2018. Sarah was crowned Miss Nebraska Teen USA 2012 and Miss Nebraska USA 2018, becoming the first woman from Nebraska to win Miss USA.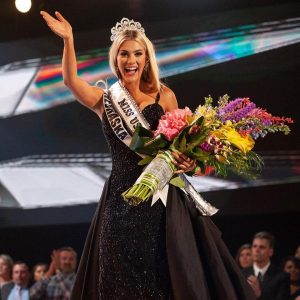 Summers earned the right to represent Nebraska at Miss USA 2018, held at Hirsch Memorial Coliseum in Shreveport, Louisiana. She went on to win the competition, becoming the first woman from Nebraska and the eleventh former Miss Teen USA contestant to win Miss USA. After winning Miss USA, she crowned Bree Coffey as her Miss Nebraska USA successor.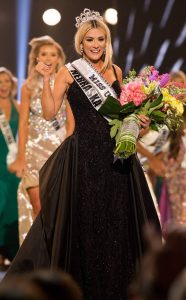 Sarah Summers is a graduate of Papillion La Vista South High School and graduated Texas Christian University in four years with two degrees: Bachelor of Science in Strategic Communication with a business minor and a Bachelor of Science in Child Development. She completed her clinical rotations to become a Certified Child Life Specialist, helping break down medical jargon, helping explain different diagnoses, and bringing normalcy to the hospital experience for the children through play. As Miss USA, Summers is looking forward to continuing visiting children in hospital settings through the connections that the Miss Universe Organization has. A second part of Summers' platform will be dealing with eating disorders, a cause she is passionate about and which she feels aligns well with the Miss Universe and Miss USA "Confidently Beautiful" campaign.