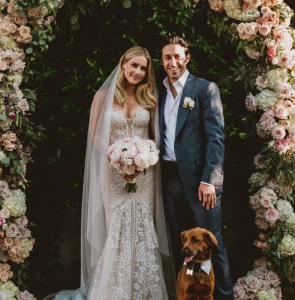 Claire Holt, Australian actress, got married on 8.18.2018! Surrounded by a colorful arbor of flowers, she smiled in her flattering lace wedding gown peacefully along with her new husband, Andrew Joblon. The intricate lace gown with its slim fitted figure was tailored in a mermaid style and was matched perfectly to Claire's simple veil and blush-toned bouquet. The thing that make this wedding dress so special is the delicate floral embroidery and appliques which continues all over the caressing fabric, and that is the wedding day goal, looking like the best version of yourself. The strapless bodice with sheer illusion plunging design reflects the beauty of the upper body brilliantly.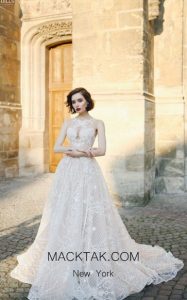 Finding your dream wedding dress can be stressful. Time is precious, prices are expensive, and the chances are low for you to come to a clear-cut decision on what you exactly want to wear at your special night.  Sometimes you feel confused between the related language of tulle, A-line, fit and flare, organza, sheath. It gets double when you find out more brides are doing multiple dresses, a formal ceremony type and a danceable, outrageous slayer of the party and one for the reception, means shopping become harder and harder. The photos of this night will always be a reminder of how did you look at that night, and how perfect were you! But what does perfect mean to you? For some brides, a dream dress is a regal ball gown fit for a princess. For others, a dream look is a sexy, sheath gown that makes everyone appreciate her curves; to other brides, the best dress is one that allows her enough movement to be able to re-enact the choreography from "Thriller" on the dance floor.
The choices can seem overwhelming for sure. No matter your budget, your personal style, or your timeline, check out MackTak.com wedding dress collections of mesmerizing designs such as Alyce, Ange Etoiles, Rara Avis, Aida Lorena, O'Blanc,… for finding the gown of your dreams;containing delicate patterned tulle fabric, artistic handmade adornments and embroidery, tantalizing silhouettes based on various styles of bodice, neckline, and skirts, those that imposes an angelic spirit on brides, and make them feel the happiness and beauty underneath their skin. The magnetic fabrics are textile on highest level of quality with smooth and caressing feeling. In addition, they are embellished by hand-made patterns of sequin, bead, crystal and so many other impressive decorations even hard to imagine! Choose the one you'll love today, on the big day, and in 30 years from now when you look back at your wedding photos.