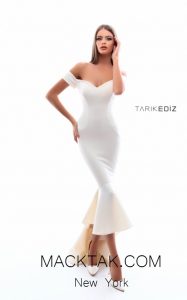 Look closely at this amazingly well-made dress of Tarik Ediz latest prom gown. This night is important and we put your desires at first to offer you this excellent one of a kind dress which is mostly perfect for expressing your springtime beauty.
The snugged silhouette of the dress is the best way to elaborate on your fitted body and all the curves and edges. The design is based on an attractive off-shoulder bodice with a revealing sweetheart neckline which has a full exposure of the bust, collarbone, neck, and shoulder area. The embraced bodice of the dress is attached to a tight surrounding waistline containing the hip curves going down to an asymmetrical hi-lo ruffled pleated skirt showing off your luxurious platform heels.
You may wear the finest set of jewelry you own to add the glamour. Shine as a shiny star in this gorgeous dress.