Ralph Lauren is an "American fashion designer, philanthropist, and business executive, best known for the Ralph Lauren Corporation, a global multibillion-dollar enterprise".
Ralph Lauren Corporation is a global leader in the design, marketing, and distribution of premium lifestyle products, including apparel, accessories, home furnishings, and other licensed product categories.
For five decades, the long-standing reputation and distinctive image have been consistently developed across an expanding number of products, brands, sales channels, and international markets.
With the belief that their global reach, breadth of product offerings, and multichannel distribution are unique among luxury and apparel companies, they yield succeed soon in the industry.
The products, which include apparel, accessories, and fragrance collections for men and women, as well as children wear and home furnishings, compose one of the world's most widely recognized families of consumer brands.
Reflecting a distinctive American perspective, they have been an innovator in aspirational lifestyle branding and believe that, under the direction of internationally renowned designer Ralph Lauren, they have had a considerable influence on the way people dress and the way that fashion is advertised and celebrated throughout the world.
Today was the 50th anniversary of this universal brand. Numerous group of celebrities were there, wearing all Ralph Lauren designs. We categorized a few of them for you.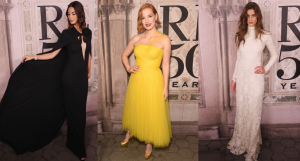 *Lily Aldridge wearing a stunning ruffling caressing overlay designed long dress having deep V neckline continuing till the midriff area.
*Jessica Chastain stuns in an organza yellow fabric featuring one-shoulder, ruffling tiny pleated puffy skirt.
*Taylor Hill grabs attention in a glorious long sleeve high neckline fully embroidered evening gown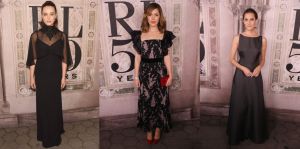 *Katherine Langford shines in a lace black sleeveless deep open neckline, long evening gown having sheer illusion overlay for the upper body.
*Rose Byrne dazzled the carper wearing ruffled shoulders; straight neckline fully embroidered knee length evening dress.
*Allison Williams fires up the ceremony in gray matte sleeveless bateau neckline open back evening dress.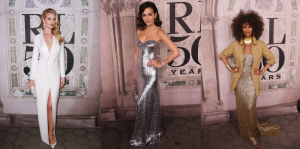 *Rosie Huntington-Whiteley rocks in her long deep open V neckline shirt neckline dress, having revealing spirit for the long stunning legs and heels.
*Camilla Belle make the night hers in a silvery strapless sweetheart neckline embellished nightgown all shine and glitter.
*Iman make everyone fall in love with the classic look of full glittering embellished open neckline dress, decorated with vintage over coat.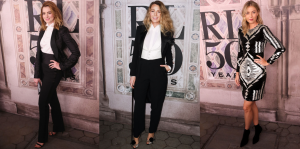 *Anne Hathaway dresses up in a classic modest look shirt with floral designs, long pants, decorated with velvet embroidered over coat.
*Blake Lively steels the glam wearing a sheer illusion shirt with plunging neckline, and long pants, decorated artistically with long bowed over coat.
*Maria Sharapova stuns in geometrical designed sequined embellished dress having long sleeves, scoop neckline, and midi length.