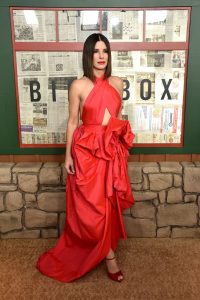 Sandra Bullock took to the red carpet on Monday night (December 17) for a screening of her new horror film Bird Box. The Oscar-winning actress was joined by co-stars including Moonlight's Trevante Rhodes at New York City's Lincoln Center, ahead of the Netflix movie's December 21 release date. The actress who continues to show that she's not afraid of colour, opted for a festive red gown from Martin Grant's Spring 2019 collection.
If you are looking for an extra sense of beauty, a suitable look for your up-coming ceremony, and a delightful outfit to feel proud of, here is the new and lovely designed Terani 1912M9354 evening dress. This stunning evening dress makes you beat every other women of the night, dancing around in your sophisticated amazingly tailored new Terani evening dress. As you noticed, the dress is based on a smooth fabric, creating a dazzling view for you, adding a desired spirit of modesty and fashion to the whole silhouette. This magnificent Terani evening dress features smooth revealing long sleeve deep V neckline bodice with hugging design, with revealing expression of your bust portion creating dazzling vibe, showing off the glamour of the arms, neck, and shoulders area, continuing to the covered back of the dress, shaping the most stunning view for your well-fitted upper body.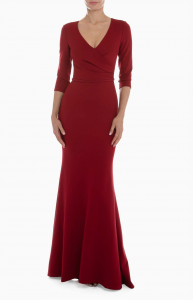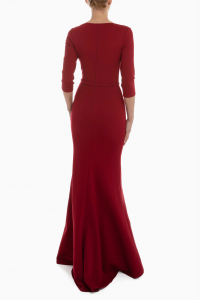 The snugged waistline of the dress contains sets of delicate design, extending the beauty of that part, hugging the hips, elaborating the curves, and edges, falling down to a cascading long skirt with comfy hem making you feel pretty attractive. The Terani evening dress is one of the special options for ladies with special taste in fashion. Terani Couture 2018 collection is one of the most surprising ones which is filled with extraordinary lavish, hear melting, and eye-catching designs, not to mention the quality of caressing fabrics in tones of models, colors, and styles, and they are really going to make you feel like an angel for all of your special golden occasions. You could simply choose the very own silhouette of yours in a blink of an eye, and make the other guests envy your alluring look. This MackTak Evening Dress will be more exaggerating with long waved hairstyle, and a thick bracelet. Enjoy the celebrity look as long as the music is going on!