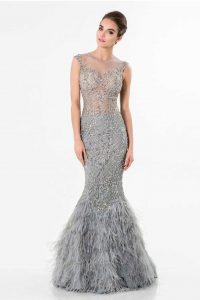 Many pageants choose to represent TERANI COUTURE when it comes to competing.
Terani Couture pageant line is rich, stunning and surprising.
It carries phenomenal pageant outlines which will blow other contestants away. Today I am going to introduce you another bestseller celebrity and pageant look of Terani Couture. So many famous people in lots of ceremonies, formal occasions and pageants wore this mesmerizing style named 1521GL0816. By a close look, you will notice the delicate and glorious patterns of crystal embellishments all over the smooth fabric, which puts you at the spotlight by reflecting the beauty. The silver shades of the caressing fabric matches the illusion sheer parts, and the glittering spirit of the majestic adornments.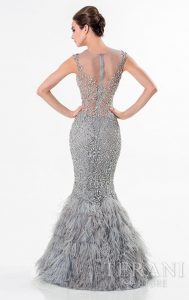 The sleeveless bodice embraces the silhouette amazingly to expose the glam of that area, and highlighting the physical perfection. The hugging tailoring of the dress contains a snugged waist, extending the elegance; ending in an exaggerated ostrich feathered flared skirt with fabulous fishtail hem having floor length. This Terani Couture 1521GL0816 gown is a revolution in beauty and modesty. This head turner dress will make everyone adore your decadence look. It is famous for its show stopping style and that is what you really need for your up-coming event! TERANI COUTURE is a world-renowned designer of special occasion evening and formal wear fundamental for any glamorous occasion. MackTak.com is a one of the top retailers of Terani Couture's hottest and trendiest women gowns. Our flawless and shocking lines of Prom, Homecoming, Evening, Cocktail, Pageants, Mother of the Bride, and Suits are ready to order online in a blink of an eye.