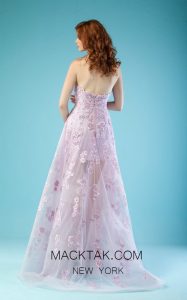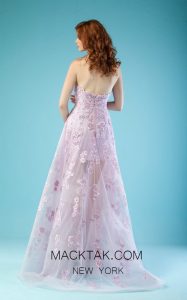 Divine is the word when you dress up in this Gatti Nolli ED 4414 Dress of the latest collection. The look on this dress is going to turn you into an unbelievably beautiful goddess. The smooth caressing fabric of the Gatti Nolli dress embraces your body in the best way possible; it has shiny ruffling effects on, creating a dazzling shiny bright look, putting you at the center of attention, while you are enjoying your time in your lovely outfit. The bodice of the Gatti Nolli dress enjoys strapless bodice with revealing design. It has sweetheart open neckline with extra stunning exposure of the bust portion. The neck portion is designed by simple tiny designed fabric to offer much more of your elegant collarbone and shoulder area.
This revealing spirit exist also in the back portion of the dress. Beside some excellent part, back of the dress enjoys simple designed to show more of your well-shaped body. This gorgeous designed Gatti Nolli Dress bodice is attached to a snugged waistline, containing the hip curves. It strips down to a lovely long ruffling skirt.
You can wear them with scarpin heels to feel more comfy and attractive. This dress can be a good choice for ladies with taller and thinner posture. Gatti Nolli is one of the most known and celebrated brands in women fashion all around the world. Gatti Nolli Couture tries to see the dream of every woman fulfilled. Gatti Nolli's designs are mixture of calmness, wildness and above all creativity, which reflects the personality of being confident and ambitious till the end.
The Gatti Nolli dresses are showing the unique talent in all over the world and in any exhibition with the prestigious designs and glamorous silhouettes. These evening dresses have brilliant styles, based on magnetic fabrics, and the genius mind of skillful designer, in touch with delicate side of feminine feelings. They are the true embodiment of glory, luxury and modesty. Gatti Nolli is the guarantee for beauty. Do not waste your time, and order this MackTak Evening Dress sooner.