Venice Film Festival is one of the greatest and oldest festivals alongside the Cannes Film Festival, and Berlin International Film Festival. "Established in Venice, Italy, in 1932, the film festival is part of the Venice Biennale, which was founded by the Venetian City Council in 1895. Today, the Biennale includes a range of separate events including: the International Art Exhibition; the International Festival of Contemporary Music; the International Theatre Festival; the International Architecture Exhibition; the International Festival of Contemporary Dance; the International Kids' Carnival; and the annual Venice Film Festival, which is arguably the best known of all the events. The film festival has since taken place in late August or early September on the island of the Lido, Venice, Italy. Screenings take place in the historic Palazzo del Cinema on the Lungomare Marconi and in other venues nearby. Since its inception, the Venice Film Festival has grown into one of the most prestigious film festivals in the world."
Venice Film Festival 2018 started since August 8, and the excitement is still going on. Celebrities of all kind take part in this great event dressed up head to toe, wearing crafted, embellished, and dazzling styles. MackTak.com gathered a category on this radiant, and most head-turning looks.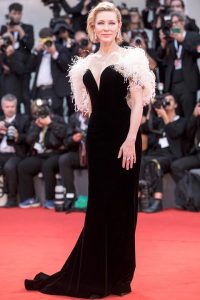 Beautiful Cate Blanchett in stunning Armani Prive gown, featuring black silk, velvet, plunging neckline-sleeves, embroidered in bezels and feathers.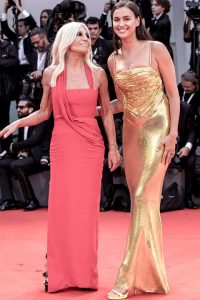 Irina Shayk dazzling in Versace Vintage chainmail dress, featuring bold citrine yellow hue, single strap neckline, angular ruching accent bodice.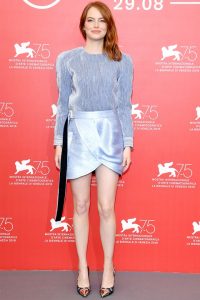 Lovely Emma Stone wearing Louis Vuitton dress, featuring flounced fabric, long sleeves, draped short skirt, belted waistline in a lilac color.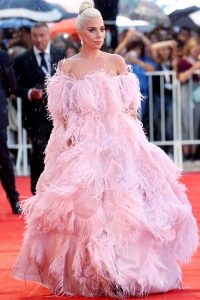 Fabulous Lady Gaga shines in Valentino couture dress, featuring Organza, pale rose feather merlons embroidery, named Flamingo.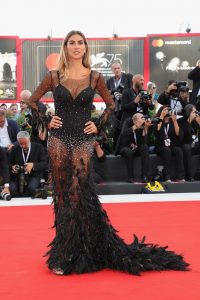 Melissa Satta stuns in Alberta Ferrretti gown, featuring tulle fabric, long sleeves, Swarovski crystal embroidery, and feathers.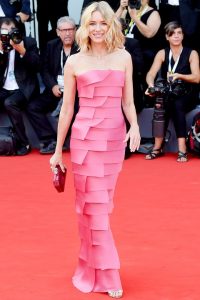 Naomi Watts has a radiant look of Armani Prive, featuring fuchsia silk organza flounced in style, strapless and long.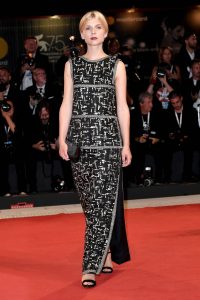 Gorgeous Clémence Poésy posing in Chanel Haute couture dress, featuring metallic sequin top, skirt, and accessories.
Sara Sampaio shows up in Armani Prive gown, featuring silk fabric, embellished with crystals, and maxi bow, strapless, and long.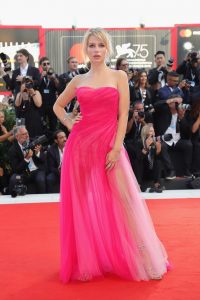 Lottie Moss booming in Eemanno Scervino gown, featuring pink tulle, bustier strapless, layered skirt.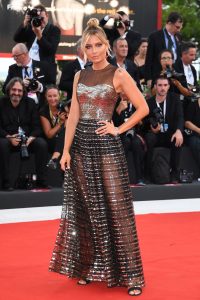 Veronica Ferraro wearing Christian Dior, featuring metallic sequins, sheer illusion, sleeveless, patterned ball gown.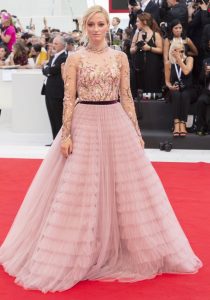 Olivia Hamilton stuns in J. Mendel gown, featuring sheer tulle fabric, multi color flower embroider, long sleeve, layered skirt.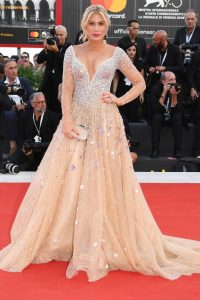 Hofit Golan shines in Labourjoisie dress, featuring embellished floral embroidered, long sleeve ball skirt.