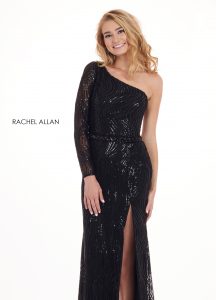 Look closely to this magnetic new designed Rachel Allan 6426 prom dress which is going to make you the Cinderella of the night. This embraced hugging dress is going to make you the beauty queen of the night, if you have an athletic well-fitted style, well, double this effect, for the modest exquisite design of this Rachel Allan prom jumpsuit is unbelievably beautiful and attractive. The Rachel Allan prom jumpsuit is based on a smooth caressing fabric having glittering shiny spirit, creating a dazzling vibe for all of your up-coming ceremony. You will be the center of the nigh if you choose to wear this sophisticated dress. Rachel Allan prom dress features sleeveless straight neckline bodice embracing the upper body with its slim fitted tailoring, attached to the low cut back with spaghetti straps adding a sexy and gorgeous feeling to the design, creating an eye-catching silhouette for that area, containing to the snugged waistline. This part of the dress surrounds the hips, highlighting the curves, and edges, creating a fascinating look of that area, falling down to a cascading elaborative pants style. To elongate the posture wear your luxurious pair of heels, and to complete the shiny chic style accessorize with silver tone jewelry. MackTak Prom Dress is whatever you need to beat everyone at the party!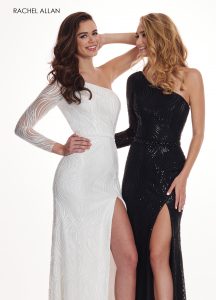 This Rachel Allan 6468 Prom dress is going to take by surprise for it is one of the most wanted styles from this new colection. The stunning simple and natural design, the artistic tailoring, the sophisticated sequin beaded embroidery, and the perfect perfect silhouette of this dress will make not only you, but everyone around you competently in love with your majestic posture. This Rachel Allan Prom dress impose a celebrity look on your gorgeous body, which enhance the confidence, and extend the sense of beauty. This part is done by its fully sequined fabric having the most shiny, dazzling, and bright vibe, creating royal vibe putting you at the center of attention, where everyone is staring at your flawless style! This Rachel Allan prom dress features along sleeve one-shoulder deep neckline bodice, with a lovely view of your upper body especially the neck and bust area, continuing to the open back of the dress is making you feel the real sense of beauty underneath your skin with different cutouts and revealing spirit. It contains heavy, intricate and delicate sets of embroidery adding a majestic vibe to the whole silhouette, creating a royal feeling.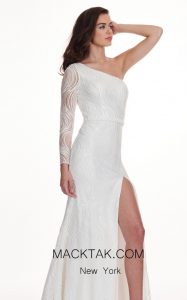 It continues to the snugged waistline of the dress containing the hips and all the desirable curves, and edges, bringing attention to this portion, falling down to a smooth, caressing simply tailored long skirt, having straight style, a high thigh slit with stunning view of your legs decorated in ankle strap heels and a comfy floor sweeping train at the end of it, which makes it easier to walk, and dance all night long. Rachel Allan as a well-known and worldwide brand released this unbelievably beautiful and sophisticated prom collection, which is filled and decorated with unbelievable, incredible, and trendy styles having variety of colors, designs, fabrics and silhouettes, to value the pure meaning of beauty and with ultimate purpose of labeling you by the name of Princess.  Enjoy the celebrity style, and the unbelievable positive compliment you are going to be the most praised lady in this MackTak Prom Dress.