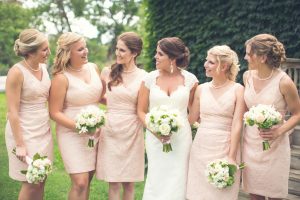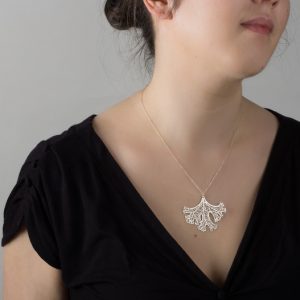 *Wear a necklace with V or U neck dress. 
The cut of this dress is perfect for wearing a necklace. Try to pick a necklace that is above the neckline of the dress and that matches the curve of the neckline. You can opt for a simple pendent necklace or a more elaborate style.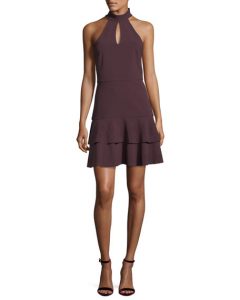 *Avoid necklaces with halter necks.
Halter neck dresses already have a lot going on in the neckline, so to wear a necklace or big earrings would make the outfit seem too busy. When you are accessorizing a halter neck dress, try wearing a bracelet or even layered bracelets. This emphasizes your arms and balances out the top of the dress.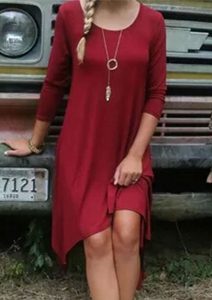 *Wear long necklaces with crew necks.
If you are wearing a dress with a high neck, wear a long necklace to make the look more interesting. Because a crewneck is a simple design, you can wear bigger accessories without it looking overdone. A necklace will bring attention up to your face and it will tie the outfit together.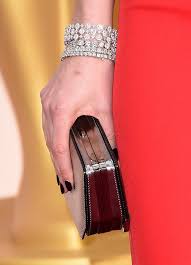 *Balance the look of a one-shoulder dress with a bracelet.
One-shoulder dresses make a bold statement. To balance the asymmetry, wear a bracelet or cuff on the opposite side of your body as the strap of the dress. This is a great way to compliment this style of dress.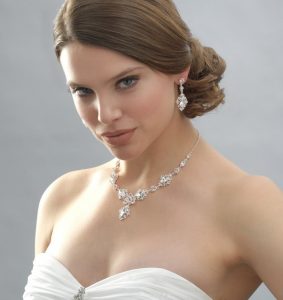 *Wear earrings with strapless dresses.
Strapless dresses highlight your arms and your shoulders. Wearing a necklace breaks up this area and does not allow the dress to shine. Instead, try wearing earrings with a strapless dress. Simple stud earrings gives the outfit a classy and sophisticated look. You can also wear long, dangly earrings, which are a great compliment to a strapless dress and bring focus up to your face. Especially with an up do, this can be a very glamorous look.