To those who keep up with MackTak TV, the interview of MackTak CEO with Tadashi Shoji designer, CEO, and associates of Tadashi Shoji brand will be so much exciting and inspiring. In their friendly conversation, they discussed about Tadashi shoji's fashion shows, show rooms, their stores in worldwide scale, the Japanese models and celebrities invited to their shows, the expansion of Tadashi line in other countries and the huge publicity they gained based on their authentic designs, and good will. Check out the full video in our YouTube channel, Here.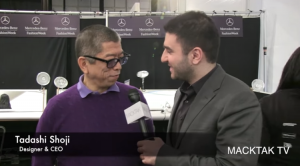 To elaborate more on this stylish brand it is good know more about the beginning of their company. Based on the facts, Tadashi Shoji was born and raised in Sendai, Japan; he began painting and drawing at a young age. Tadashi worked for three years in Takamatsu's studio making conceptual art. Sensing the political unrest brewing in Japan and encouraged by opportunity abroad, Tadashi moved to the United States where he discovered fashion design. He goes on to work with famed costume designer Bill Whitten, followed by the iconic Richard Blackwell. Troubled by the lack of options for occasion dressing, Tadashi set out on his own, launching his namesake label in 1982. With his intellect as an artist and his acumen for business, he pioneered a new category of evening dress. He paired stretch fabrics with fluid silhouettes and combined couture dressmaking techniques with skillful engineering, making it possible for pieces to be mass-produced—and accessible.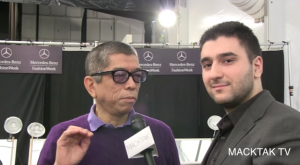 Now days, with firm believe in their dreams and goals, Tadashi Shoji became one of the most well known designs not only in New York but also in worldwide recognition.  Tadashi Shoji collection contains ready-to-wear and kid's collections, shapewear, intimates, leather handbags, and fragrance. The brand's recently debuted affordable luxury bridal collection is swiftly gaining popularity for both its versatility and rich assortment of pieces.  Famous for their impeccable fit, trademark ease, and modern sense of femininity, Tadashi Shoji fulfilled all the fashion thrive and demands. To name a few First Lady Michelle Obama, Octavia Spencer, Kate Hudson, Paris Jackson, Demi Lovato, Miranda Kerr, Lea Michele, Sofia Richie, Kaley Cuoco, and Anna Kendrick are all fans of Tadashi Shoji's evening dresses. The evening dresses have expert techniques in draping, ruching and shutter pleats, each garment is masterfully tailored to flatter all figures. Tadashi Shoji's evening dresses are based on caressing fabrics with stretch, such as luxe jersey, embroidered lace and featherweight tulle to render a custom-made feel. That makes it a cocktail dress or floor-length gown, the wearer looks red-carpet polished, with all the effortlessness of slipping on her favorite T-shirt.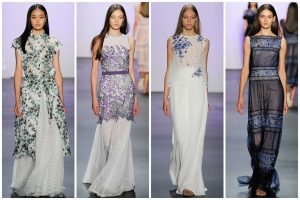 With a range of styles and exquisite craftsmanship, Tadashi Shoji inspires real women, on their most memorable occasions, to feel confident in what they are wearing and comfortable in their own skin– in a word, beautiful.