This post is part of the Color Meaning Blog Series, detailing the meanings associated with colors such as red, orange, yellow, green, blue, purple, grey, black, white, brown, pink, turquoise, gold, silver, and beige. Purple combines the calm stability of blue and the fierce energy of red. The color purple is often associated with royalty, nobility, luxury, power, and ambition. Purple also represents meanings of wealth, extravagance, creativity, wisdom, dignity, grandeur, devotion, peace, pride, mystery, independence, and magic.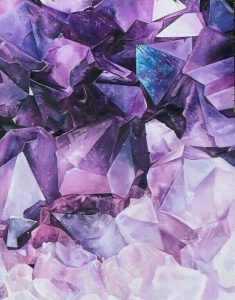 The color purple is a rare occurring color in nature and as a result is often seen as having sacred meaning. Lavender, orchid, lilac, and violet flowers are considered delicate and precious. The color purple has a variety of effects on the mind and body, including uplifting spirits, calming the mind and nerves, enhancing the sacred, creating feelings of spirituality, increasing nurturing tendencies and sensitivity, and encouraging imagination and creativity. Purple is associated spirituality, the sacred, higher self, passion, third eye, fulfillment, and vitality. Purple helps align oneself with the whole of the universe. Different shades, tints, and hues of purple have different meanings. Light purple hues represent feminine energy and delicacy, as well as romantic and nostalgic feelings. Dark purple hues evoke feelings of gloom, sadness, and frustration. Bright purple hues suggest riches and royalty.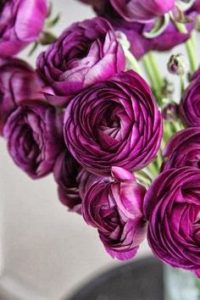 Light purple or lavender is a feminine, graceful, elegant color that has long been associated with refined, wealthy women. While the color purple represents royalty, lavender represents beauty and femininity. Lavender is considered to be the "grown-up" pink. Its lighter lavender shades have a sacred place in nature, with lavender, orchid, lilac, and violet flowers considered delicate and precious. The color lavender suggests uniqueness and specializes without the deep mystery of the color purple. Too much purple brings out qualities of irritability, impatience, and arrogance. Too little purple brings out feelings of powerlessness, negativity, and apathy. Because the purple color is created by combining a strong warm with a strong cool color, the color retains both warm and cool properties. On one hand, the color purple can boost imagination and creativity, on the other, too much purple can cause moodiness.
Throughout history, purple robes were worn by royalty and people of authority or high rank. Many believe this to be true because the rare occurrence of purple in nature made it one of the most expensive color dyes to create. The United States Military awards the Purple Heart to soldiers wounded in battle. In Thailand, purple is the color of mourning for widows. Purple or violet gemstones are believed to increase your imagination, remove perceived spiritual obstacles, calm confrontations, and re-energize the learning of new things.